Halle Berry was born in 1966 in Cleveland, Ohio.
She is a very successful actor with movie credits that anyone would be proud of:
X-Men, Gothika, Swordfish, Jungle Fever,
Boomerang, The Flintstones....
That's an eclectic list, and it's only a sample of her film work. Ms. Berry was also Miss Teen USA, Miss Ohio, and first runner up for Miss USA. Her great looks have certainly helped her career, but she has proven many times that she's more than just a pretty face.

Ms. Berry may look like she's in her 20s or 30s, but if you've done the math you know better. She looks great because she takes care of herself. She exercises on a regular basis; but more importantly, she eats right, and she eats at the right time.


Here's Halle Berry's typical daily diet:
Breakfast:
2 scrambled eggs, spinach, green peppers, spring onions and parsley.
If she's in a hurry, she'll have fresh berries, peaches, whey powder and diluted cranberry juice.

Please take note:
Breakfast is the biggest meal of her day.

Snack:
Diluted Sugar-free cranberry juice and a grapefruit.

Lunch:
A large tomato stuffed with tuna and celery, or a salmon salad.

Snack:
Diluted Sugar-free cranberry juice and a grapefruit.

Dinner:
Grilled lamb chop with dried mustard, cabbage and baked squash; or chicken baked with lime and garlic, and mashed cauliflower with onion and pepper.


Halle Berry is careful to eat every 3 hours, and that is the "secret" to her lean waist:
It's important to have a healthy source of carbohydrates every 2 to 3 hours during the day. This keeps your body from going into a self-defensive starvation mode: Please refer to our article titled Practical 'Weight-loss' Tips for more information about the things your body will do to defend itself against starvation.
Here's a hint: It's not pretty!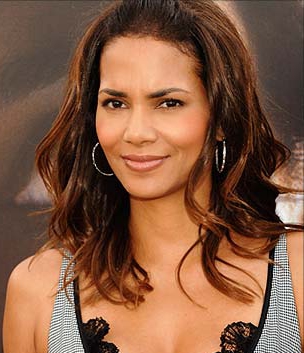 Ms. Berry has a couple challenges in regard to maintaining a healthy look:
She is 5'5", and she has diabetes.
When someone has a short frame, it's easy to look bulky or broad. Plus; Diabetes sufferers don't respond to exercise as well as most others, and they have frequent problems with low energy. This can be very discouraging!

Anyone can find great reasons for not achieving their goals. Ms. Berry (and other celebrities listed here) serve as an example of what is possible if you set a goal and work toward it one day at a time!





Research for this article was provided with permission by Fitness and defense.com